Nenohi and Nenohi Matsu are Morita's most famous sake products. Our brewmaster constantly refines his centuries-old skills to create the highest-quality, absolutely delicious sake while maintaining the traditions that have been passed down through the generations for over 350 years.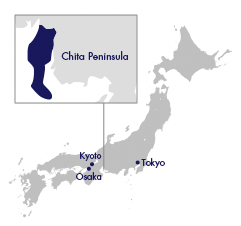 Morita's sake brewery is located in Kosugaya on the Chita Peninsula in Aichi Prefecture,the geographic center of Japan. Morita began brewing sake in Kosugaya facing the sea nearly three-and-a-half centuries ago. Here, the weather is warm from spring to autumn. Then, cold winds blow down from the mountains in the winter. To the Master, this climate is ideal for brewing sake, and activity most precisely controlled during the winter time.
Distant view of brewery

The Chita Peninsula is blessed by an abundance of marine products.

This region is also the production area for Tokoname-yaki, a type of pottery that was created in the 12th century.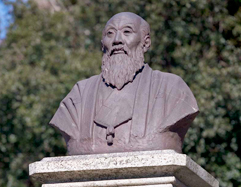 The bust of Meiki Morita
Morita has continuously brewed sake through the centuries since its founding in 1665. Still, it was Meiki Morita, the 11th head of the family, who improved the quality of Morita's sake to such a remarkable degree in the mid-19th century that it gained widespread respect. Meiki gave this sake-which finally achieved the high standards he was aiming for-the name "Nenohi Matsu."
"Nenohi" means "Day of the Rat" according to the Chinese zodiac. "Matsu" means "pine." Together, this name refers to a type of entertainment from the imperial palace in Ancient Kyoto, in which young pine seedlings were cut and the greenery plucked while poems were recited to celebrate longevity, on the first Day of the Rat after the New Year. Contributing to its renown, Nenohi sake was released in the mid-20th century as a casual, easily consumable beverage. Celebrating this legacy in the past and even today, Morita's sake has been carefully brewed to honor longevity and the happiness of people everywhere.

"Hamajima" has won the Gold Prize in the Annual Japan Sake competition through eight consecutive years.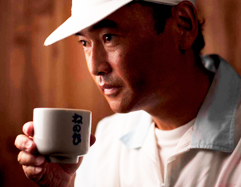 Yasunobu Hamajima
Morita's chief brewer, Yasunobu Hamajima, a master renown for his extremely refined skills has unerringly nurtured and coaxed the essence of each grain of rice to achieve this envious record throughout those years now nearing a full decade.
The Annual Japan Sake Awards started in 1911. It is conducted each year to recognize the excellence of sake from across Japan, with the aim of improving manufacturing techniques and the quality of refined sake.
Sake is made from natural ingredients with assistance from ambient bacteria and yeasts. To create sake that is stable, of high quality, and of delicious taste, these natural materials and living organisms must be controlled precisely. Brewers must possess encyclopedic knowledge and experience, composed judgment, excellent technical skills, and refined intuition. These abilities can only be obtained through extraordinary dedication and effort, as well as all-consuming passion and enthusiasm for the art of sake brewing.
In earning the Gold Certificate in the Annual Japan Sake Awards for eight consecutive years Hamajima has been recognized by both professionals and the governing body of Japanese sake nationwide. This is testimony to his preeminent technical skills and thorough knowledge of the subtleties of brewing sake.
Hamajima Toji's (brewmaster's) Vision and Mission
Master Hamajima's refining skills are not without imagination. For him the sake must faithfully evoke the flavor bouquet he senses in each year's rice harvest. In particular, each production must meet the following four conditions.
1) Umami

People often use the word "umami" when describing the flavor of sake, which refers to a savory, delicious flavor. It is related to the amino acids, such as glutamic acid that sake contains. Umami evolves from the balance of various types of amino acids, which form the body and "structure" of the sake. Morita's sake has long been regarded as unique for its strong umami flavor; Hamajima strives to maintain this tradition year after year.

2) Haba

In the world of sake, people refer to the way the sake's flavor grows and expands on the tongue as "haba" ("breadth"). Hamajima aims to produce sake with a nectar that seems to expand outward in the mouth.
3) Kire

"Kire" refers to the aftertaste of sake. Sake is said to have good kire if, after sipping, the flavor disappears quickly leaving no unpleasant tastes behind. Conversely, sake with bad kire has cloying flavors that linger stubbornly in the mouth.
Generally, sake with controlled amounts of umami has good kire, while sake with strong umami tends to have poor kire. Thus it is a rare brewmaster whose skills are evidenced by achieving the difficult task of balancing the opposing characteristics of strong umami and haba with good kire.

4) Harmony of six flavors

Unlike Western traditions of taste, in Japan, sake featuring the "wa" (harmony) of five flavors-sweet, sour, salt, bitter, and astringent-have been regarded as ideal since ancient times. Embracing umami, Hamajima aims to brew sake expressing a total of six balanced flavors. To master control over the raw materials that change each year, climate conditions, and unpredictable natural microorganisms-in order to create an optimum balance between these six flavors-even experienced and skilled chief brewers must embark on their missions to brew sake each year with a singular mind of complete devotion to their craft.