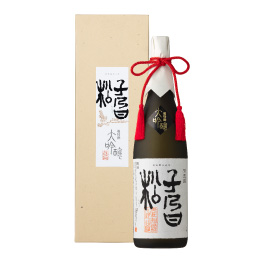 NENOHI-MATSU Chyo-tokusen Daiginjyo〈1.8L〉

This sake is used 100% of Yamada-nishiki, the most desirable rice for sake making, and polished them to 35%.
Water plays important role for sake making. The brewing water for NENOHI-MATUS Chyo-tokusen Daiginjyo is from Mt. Ontake, which is super-soft and contains only trace amount of minerals. The perfect gift to a connoisseur.
< Food Paring >
Whitefish or sweet shrimp Sashimi, Dishes bring out the best in the ingredients
< Drinking Temperature >
Chilled 5~10℃

Container
Glass Bottle
Carton Qty./Capacity
3 / 1.8L 
Carton Size : 155×460×460 (㎜) / 10.3kg
Rice
Yamada-nishiki
Rice polishing ratio
35%
Alcohol content
16-17%
JAN
4902856 690205
Remark
Gift‐Boxed