Cold Pork Salad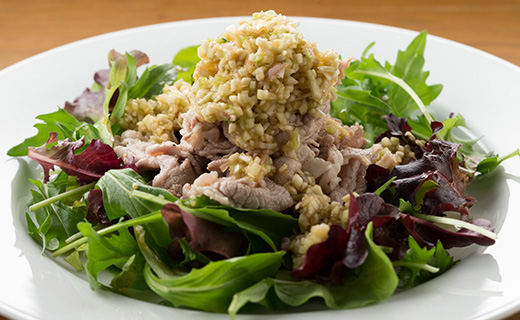 (two servings)
150g thinly sliced pork
1,000ml water
Pinch of white pepper seeds and salt
1 bay leaf
Salt and pepper
Sesame oil
- For the sauce
1/2 cucumber
1/2 green onion
1 myoga
1 eggplant
1/2 dried red pepper
2 tablespoons Koikuchi Soy Sauce
1 tablespoon white wine vinegar

1.

Dice the cucumber, green onion, myoga, and eggplant, and place in a bowl. Add the dried red pepper.

2.

Add soy sauce to the bowl, and mix. Let sit for 30 minutes. Add the white wine vinegar and mix.

3.

Put the water, white pepper seeds, salt, and bay leaf in a pot and bring to a boil. Turn the heat down and allow the pot to boil gently for around five minutes.

4.

Turn the heat up to bring the pot to a boil. Add the pork and turn the heat off, making sure that the pork is not sticking together. Once the pork is cooked, use a strainer to strain it. Place the pork in a bowl. Add the salt, pepper, and sesame oil. Mix while allowing the ingredients to cool.

5.

Arrange the salad and pork on a plate. Add the sauce.
*Note* Make sure not to overcook the pork. If you use water to cool the pork, it will become too watery, so use a paper fan or other method instead.

*Recommendation* If you make more sauce than required, it is also delicious on hiyayakko (cold tofu), grilled fish, and other dishes. Add thinly sliced oba leaves, sesame seeds, etc. according to your preference.